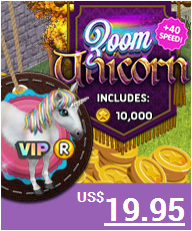 This rare unicorn was first introduced as a seasonal item for a brief period of time. The package was in the store for 1 week only. The rare unicorn was an item for Fantasy Month.
However, on the 30th August 2014, it was changed into a rare item available in a package for a limited amount of time. Also it was only available to VIP players.
The cost of the package was $19.95 for the unicorn and 10000 gold.
This item is a VIP item and has +40 speed.
The full refund of this item is 4000 gold.